Public Adjusters for Builder's Risk
Our public adjusters are highly experienced in claims involving builder's risk. We guide you through the entire claims recovery process, working to get you the maximum amount for your claim.
When a disaster devastates your property and halts construction, the mounting costs from delay can become immeasurable. How are you covered?
It may be the largest development project in your company's history, years in the making. A project that you may have to bet your future on. Then, when a disaster devastates your property and halts construction, the mounting costs from delay can become immeasurable. When your project is under construction, it is vulnerable to a range of natural and man-made disasters that can threaten your investment within moments. How are you covered by a builder's risk insurance policy?
After a disaster, it isn't just about the hard costs of repairing and rebuilding what was damaged or lost. It's about the soft costs, too. Because a disaster has delayed your completion date, the additional expenses and potential business income loss you now have to bear can be extraordinary. Rather than leaving it up to your insurance company to decide what can be covered, our public adjusters have the expertise and proven results to evaluate, document, and present a detailed and comprehensive claim of all losses to prove what you are entitled to under your policy. We work only for you, negotiating and expediting a maximum claim amount so you can recover and get the job done.
The Adjusters International/BLC Offices
What To Focus On After Builder's Risk Damage
Make sure you fully understand the meaning of each of the following before you move forward. Feel free to reach out to us for a no-cost discussion about your claim.
What are considered hard costs?

What are considered soft costs?

How quickly can I start rebuilding following a loss?

What is my agent/broker's role?

What do I need to know about the insurance company's experts?

Why is a claim strategy so important?
Property Damage Losses Commercial Claims Recovery Process
Property Damage
Time Element
Life & Safety Issues
Mitigation of Damages
Establish A Preliminary Recovery Plan
Evaluation of Coverages
Valuation Of Damages, Claim Preparation, and Documentation
Negotiations & Settlement
Restoration Of Property & Operations
How Our Public Adjusters Help You
Evaluate

Fully reviewing your insurance coverage.

Strategy

Developing a claim management strategy.

Compliance

Determining policy compliance issues.

Valuations

Completing detailed valuations of building, equipment and inventory losses.

Interruption

Formulating business interruption models.

Itemization

Presenting and supporting an itemized claim package to your insurer.

Negotiation

Negotiating on your behalf with your insurance company.

Communication

Keeping you informed every step of the way.

Settlement

Ultimately settling the claim for the maximum amount and with less hassle for you.
Industries Our Public Adjusters Have Helped
Client References & Testimonials

Client References

Bricks Road House - Hamilton, NY

C. G. Properties - Little Falls, NY

Canadian Four State Holdings - New Hartford, NY

D & L Leather & Supplies - Utica, NY

Dari Del - Utica, NY

Eastwood Tavern - Utica, NY

Ficchi Heating & Air Conditioning - Utica, NY

Hyland Tower Pizza - Utica, NY

JJ & Y Corporation - Utica, NY

Legends Bar & Grill - Utica, NY

Mohawk Auto - Utica, NY

N.Y. Connection - Utica, NY

New Hartford Shopping Center - New Hartford, NY

Raymond Sweeney - Stamford, CT

Robert & Pauline Doyon - Huntington, VT

West Side Market - Rome, NY

Testimonials

Prior to [your] involvement, my insurance company omitted over half the damage in their estimate. During the whole process, from evaluating the damage to getting the fair market costs of labor and materials, to the final settlement, [your representative] displayed a real understanding, knowledge and professionalism. He truly represented the client against a difficult insurance representative for which I am grateful

Akbar Khan

Homeowner

Months after the storm passed, the County was still faced with tremendous burdens related to the insurance coverage issues and FEMA and MEMA eligibility issues. Jackson County hired Adjusters International to provide professional services for disaster assistance, remediation, restoration and recovery efforts....Their expertise with governmental regulations, the complex FEMA process and insurance adjustments resulted in our successful claim for over $2 million in additional FEMA Public Assistance funding specifically; in our successful negotiations with our insurance carrier; and in numerous other increases in the values FEMA and MEMA initially designated for County projects. Jackson County will always be mindful of the help we received from Adjusters International when we needed it most.

Alan K. Sudduth

County Administrator - Board of Supervisors, Jackson County, Mississippi 

Case Studies

In the spring of 2013, the Village of Watkins Glen and Schuyler County suffered a devastating fire to its new, 15,000-square-foot Shared Services Building. This services facility was the headquarters or central location of key departments for the county's and village's operations. The Adjusters International/Basloe, Levin & Cuccaro public adjusting team was chosen to manage the county's and village's property damage insurance claims while ensuring that public services continued unhindered. After initial offers from both insurance carriers at much lower levels, AI/BLC was able to negotiate and secure a total recovery amount of $3.2 million dollars.

Wilbert's, a prominent three-location automotive recycling operation across Western and Central New York, suffered a devastating fire to a new 10,000-square-foot building at its Williamson location. As this building was the center of business for that location, Adjusters International/Basloe, Levin & Cuccaro (AI/BLC) immediately established temporary solutions to mitigate the losses and also developed strategies and objectives to make sure Wilbert's received an optimal insurance settlement.

New Energy Works, a leading timber company in America, suffered winter-related roof collapse to one of its main 15,000-square-foot buildings. When operations could have been left in limbo, our public adjusters quickly took control of the insurance claim process to help make sure New Energy Works kept running and did not lose customers to competitors.
Panelists discuss steps policyholders should take to ensure there is adequate insurance coverage on their upcoming or existing project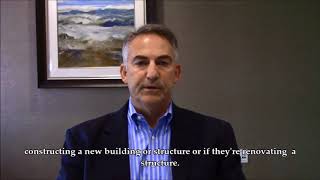 Karl Denison, Executive Vice President and Principal at Goodman-Gable-Gould/Adjusters International discusses who needs Builder's Risk Insurance
Moving into a newly constructed or renovated building is an exciting time. It's the culmination of a complex undertaking, involving a spectrum of activity from land acquisition to ...
Contact Us
If you're suffering from a commercial property claim, we can help!
( * ) indicates required field
Meet Your Public Adjuster
Through his extensive knowledge of both the insurance industry and property insurance policies, Steve is able to empower our clients to achieve maximum results from their property insurance claims.
Contact him today!