Public Adjusters for Winter Storm Damage
If your organization or community suffers winter storm damage to any of its facilities, your recovery can largely depend on how you assess and report the damage to your insurer. Our team of expert public adjusters will help you obtain the maximum claim recovery so you can get back on your feet sooner.
Because winter storms can cause a variety of damage, if you do not document and prove your loss properly, you may not receive the claim proceeds you need to fully recover.
If your organization or community's infrastructure is interrupted by a winter storm, you will not only face the challenges of securing everyone's safety and protecting the rest of your property. You will now also have to secure the necessary funding for your recovery. There may be a roof collapse, a pipe bursting and causing water damage and possibly mold, or even sudden fire damage. Do you know if you are covered in your insurance policy? The effect of any unrecoverable disaster costs can be an immobilizing blow to your organization or community.
Our public adjusters have expertly managed claims for every type of disaster at the regional, state, and national levels. We are called upon by communities, non-profits, and government organizations for our unique ability to mobilize a top team of professionals who have the unmatched experience and comprehensive understanding of the laws, regulations, and policies involving disaster recovery. This enables our adjusters to consistently coordinate and obtain the maximum reimbursement for our clients, so that they may recover. With offices in Portland, Albany, Utica, Syracuse, Rochester, Buffalo, and Scranton, we are the premier public adjusters PA, NY, and ME organizations and communities rely on to help them recover more, sooner.
The Adjusters International/BLC Offices
What To Focus On After Winter Storm Damage
Make sure you fully understand the meaning of each of the following before you move forward. Feel free to reach out to us for a no-cost discussion about your claim.
Why should the county, city, town, or district optimize its claim?

Do we have a commitment to taxpayers to recover the most possible?

What if the insurance company engages a building consultant?

What is my agent's or broker's role?

Will my code upgrade coverage address all my code related issues? ADA, fire codes, etc.?
Is there coinsurance in my policy?

Do we need to issue an RFP in order to engage your services?

Who in our county, city, town, or district will be involved in making the decision to hire us?

Is your claim a result of an event that may be funded by FEMA? If so, it is your obligation to first maximize your insurance settlement to satisfy FEMA's eligibility requirements.

Why can't we do it ourselves?

What emergency facilities are necessary to continue operations?

Can temporary facilities still be used at the end of the claim and be considered permanent? If so, how?

How do existing plans for renovations or enhancements affect my claim?

How do bond cycles affect the full replacement cost holdback provisions of a policy?

What building codes and regulations must be considered in the reconstruction?
How Our Public Adjusters Help You
Evaluate

Fully reviewing your insurance coverage.

Strategy

Developing a claim management strategy.

Compliance

Determining policy compliance issues.

Valuations

Completing detailed valuations of building, equipment and inventory losses.

Interruption

Formulating business interruption models.

Itemization

Presenting and supporting an itemized claim package to your insurer.

Negotiation

Negotiating on your behalf with your insurance company.

Communication

Keeping you informed every step of the way.

Settlement

Ultimately settling the claim for the maximum amount and with less hassle for you.
Government & Non-Profits Our Public Adjusters Have Helped
Client References & Testimonials

Client References

1388, LLC - Binghamton, NY

151 Highland Avenue (Salamanca, LLC) - Salamanca, NY

36-40 North Main Street Corp. - Waterbury, CT

652 East Division Street, LLC - Syracuse, NY

A Plus Mini Storage - Miami, FL

A Vision LLC - Pine City, NY

A1 Auto Parts, Inc. - Utica, NY

ABC McCleary Sign Company - Carthage, NY

Aim Optical - Whitesboro, NY

Alan & Sandra Citarella - Pittsford, NY

Alexander Cosentino - Cicero, NY

Alfred & Laurie Gentile - Baldwinsville, NY

Allam Afify - Binghamton, NY

Allied Land Company LLC - Watertown, NY

Alphonse Coccia - Rutland, VT

Alpine Specialty Hardwoods, Inc. - Sloansville, NY

Testimonials

...This storm caused area wide damage with downed trees and extensive power outages. The storm was declared a local, State and Federal disaster (Disaster #1665)...[your team] demonstrated a sincere interest and willingness to work with Erie County in its efforts to document the incurred costs and finalize the volumes of paperwork necessary as part of the Federal Disaster relief efforts...

Dean Messing

Deputy Commissioner/Emergency Services

Case Studies

In the spring of 2013, the Village of Watkins Glen and Schuyler County suffered a devastating fire to its new, 15,000-square-foot Shared Services Building. This services facility was the headquarters or central location of key departments for the county's and village's operations. The Adjusters International/Basloe, Levin & Cuccaro public adjusting team was chosen to manage the county's and village's property damage insurance claims while ensuring that public services continued unhindered. After initial offers from both insurance carriers at much lower levels, AI/BLC was able to negotiate and secure a total recovery amount of $3.2 million dollars.

Wilbert's, a prominent three-location automotive recycling operation across Western and Central New York, suffered a devastating fire to a new 10,000-square-foot building at its Williamson location. As this building was the center of business for that location, Adjusters International/Basloe, Levin & Cuccaro (AI/BLC) immediately established temporary solutions to mitigate the losses and also developed strategies and objectives to make sure Wilbert's received an optimal insurance settlement.

New Energy Works, a leading timber company in America, suffered winter-related roof collapse to one of its main 15,000-square-foot buildings. When operations could have been left in limbo, our public adjusters quickly took control of the insurance claim process to help make sure New Energy Works kept running and did not lose customers to competitors.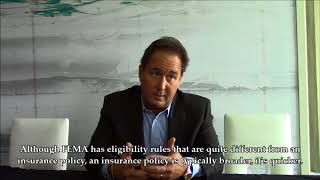 John Marini, President and CEO at Adjusters International discusses how FEMA and an insurance policy work together
Webster's lead definition of "collapse" seems so clear and straightforward as to preclude the possibility of such an event being debatable. Yet in the field of property insurance, few concepts have been as open to interpretation...