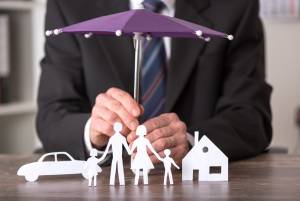 Sometimes, it's not what someone knows but what they don't know that matters most -- especially when it comes to insuring a home. If a fire, tornado, hurricane or winter storm severely damages a single family house, the costs of replacing the residents' personal belongings, rebuilding the basic house structure and additional living expenses are usually covered by the insurance policy. What many policyholders don't know is that there are some other important basics that are not likely to be covered unless special endorsements or extra coverages have been purchased.
"Generally speaking in today's world, homeowners' policies can sometimes be sold quickly without a thorough explanation of what was actually purchased. That's why it's incredibly important for insurance shoppers to be thorough and ensure as much communication as necessary regarding what they are seeking insurance for, all the necessary details and characteristics of their homes, personal belongings, and the overall piece of property their homes are situated on and what type of policy they are seeking. Find an agent or broker who will give you the attention and time that you need to purchase the right policy for your family and your life."
We spoke to three property insurance experts from AI/BLC – a public adjusting firm that serves policyholders in New York, Pennsylvania, Vermont, New Hampshire, Massachusetts, Maine, Connecticut, Ohio and Rhode Island -- to find out what are some of the more common coverage limitations that can be the most surprising and troublesome for homeowners after a property disaster.
1) Water Damage and Mold
Whether it's caused by heavy rain and flooding or by a sewer back-up, water damage claims can be very difficult to file. Why? Because the cause of the water entering your home determines if and how much of the claim will be paid. Water damage caused by massive outdoor flooding can only be covered by policies that are purchased through FEMA's National Flood Insurance Program (NFIP) -- these are separate policies that are only available to policyholders who live in FEMA-declared flood zones. If a hurricane, tornado or other wind event lets rain enter the house by tearing off a roof or breaking a window or door, then some or all of this damage will likely be covered. If the fire department causes water damage when extinguishing flames, then those repairs would be covered as part of the house fire claim. And if a drain or sewer line backs up, then that will likely not be covered unless special coverage for drain and sewer back up or sump pump failure has been added to the policy.
And even when these additional perils are purchased and added/endorsed to the policy, that very endorsement typically contains a sublimit, specific to this very insured peril. Typical sub-limits for these endorsements tend to range from $2,000 - $10,000.00. When dealing with a sewer backup into the basement of a home, the water is considered Category 3, due to the raw sewage content that has been dispersed. The clean up by a certified mitigation/restoration company can very well use up the entire sub-limit before any of the damaged property is even replaced. This holds especially true with the ever more popular trends of finished rooms and entertainment rooms that are being installed in basements today.
Another complication that arises when handling water damage claims? Mold!
If any of the water issues above cause mold growth, the insurance company will only pay to clean up the mold if fungal growth is the direct cause of a covered water loss.
"Mold limitations or exclusions are based on the same rules as listed above – if the water damage is covered, then cleaning up the mold will also likely be covered. If the water damage isn't covered, then the resulting mold remediation will also not be covered."
However, even if the mold is covered due to being the result of a covered peril, again there could be a dollar sub-limit to contend with and there is sometimes even an aggregate sub-limit for any and all such occurrences within the policy period.
2) Code Upgrade Coverage
While standard policies will only pay to return your home to the state it was in before damage occurred, older homes may need to be updated according to new local building codes. These code upgrades will increase the cost of returning the home to normal, and that cost might not be covered meaning that many homeowners have to absorb this extra cost.
Stephen Surace, Chief Financial Officer and Vice President at Adjusters International (AI), notes that, for those home insurance policies that do not cover any building-code upgrades, it's important to have an idea of how much those code upgrades may cost so that the homeowner can put money aside to cover these expenses. Extra ordinance & law coverage is also something that can be purchased separately which is another option.
"Consumers need to make sure that they understand the risks within their policies and one of the biggest exposures we see is the cost of meeting new building code standards when rebuilding or repairing a home. For example, even though the average homeowner might not understand why the county or state requires them to use a higher rated and more expensive type of insulation due to current energy codes, they will still need to incur that cost in order to have their walls properly insulated and obtain the necessary certificate of occupancy upon completion of said repairs or rebuild."
- Stephen Surace, CFO and Vice President at AI
3) At Home Businesses
Our experts have seen a rise in claims involving at-home businesses, which, in most cases, are either only covered up to a small amount (typically between $2,000 - $5,000) or are not covered at all. For those who work from home for a larger company or are running a side business out of their house -- such as cosmetic sales, restoration contracting or a photography studio -- additional coverage can be purchased to cover their supplies and inventory in the event of a large loss.
"You can't just assume that these items will be covered as part of your personal property claim because, if you're being paid a service fee for using them, then you will likely not be reimbursed for replacing or repairing that equipment or those products unless they also fit into another covered category within the policy. Having an advocate such as a licensed public adjuster by your side can help with issues like this because properly categorizing any loss into the available coverage and ensuring that the claim is prepared in a manner that is consistent with the available coverages are key parts of what we do when we professionally prepare a claim for clients."
4) Other Structures
When insurance is purchased for the main house, coverage for other structures is typically an automatic addition but the amount of insurance provided for such structures is calculated by a simple percentage of what the main house is insured for, and that percentage is commonly t