Public Adjusters for Tornado or Other Windstorm Damage
If a tornado strikes and damages your commercial property, after everyone's safe, your priority is to rebuild and to save your business. We are your public adjusters working as your advocates to assess damages, prepare your insurance claim, and negotiate with your insurance company to get you what you need to recover.
Tornado damage can be catastrophic or sometimes hidden and easily missed, and therefore compromising to your commercial property. Our public adjusters are experts in assessing such damage and negotiating a claim that will get your business what it needs to fully recover.
If your commercial property is damaged by a tornado, you may not be able to see the damage with the naked eye. This could be a cracked foundation or a loosened roof. How will you know if your property is safe? The first step is to engage a licensed engineer to determine if any structural deficiencies like these have occurred. If the damage is identified, our public adjusters can step in to help assess the full scope and prepare and manage your insurance claim.
Our team of public adjusters evaluates and documents your damage in full detail, and negotiates with your insurance company for a maximum claim recovery. As your trusted advocates, our adjusters make sure you obtain what you need to rebuild your property and business. With offices in Portland, Albany, Utica, Syracuse, Rochester, Buffalo, and Scranton, our public insurance adjusters expertly handle Maine, Pennsylvania, and New York tornado damage commercial insurance claims.
The Adjusters International/BLC Offices
What To Focus On After Tornado or Other Windstorm Damage
Make sure you fully understand the meaning of each of the following before you move forward. Feel free to reach out to us for a no-cost discussion about your claim.
What is my agent/broker's role? Will his/her role be active or passive? When faced with supporting your position or the insurance company's, where will he/she stand?

The insurance company hired a construction estimator. What do I need to know?

Wind Damage vs. Storm Surge vs. Flood. What is covered?

Why is a claim strategy so important?

Am I impacted by coinsurance?

Forensic Deconstruction may be required in order to determine the possible structural damages caused by pressure vs. suction and differential pressure. (Wind flow on two opposite sides of any building components such as roofs, walls, structural members, etc., which could deform or dislodge materials).

Is there coinsurance in your policy? Properly managing coinsurance requirements can prevent financial disaster. Not properly managing coinsurance requirements can put you out of business! If there is, what does it mean? If there is, did your insurance adjuster explain it? How is coinsurance calculated: on replacement cost or actual cash value?


Is there a methodology to properly document the loss?

Is a moisture survey necessary? Why or why not?

When mold is an issue, be sure to hire professionals to record RH%, document the damage, and create a moisture map before removing ALL wet building materials.

Prompt inspection and documentation is key to a successful claim. It takes a trained professional to identify and document windstorm damage. Do you have the right expert lined up? You should not just rely on the insurance company's experts.

The report from the roofing expert you choose can make all the difference in your recovery.

Repair vs. replacement of roofing can be a very challenging issue. Are you familiar with matching issues/rules? Are you familiar with patching issues/rules? What about warranties?

Wind driven rain vs. leakage. The difference can affect your recovery.

What happens following an extraordinary storm when drying equipment, generators, remediation labor, and other resources are unavailable for days? Weeks?
How Our Public Adjusters Help You
Evaluate

Fully reviewing your insurance coverage.

Strategy

Developing a claim management strategy.

Compliance

Determining policy compliance issues.

Valuations

Completing detailed valuations of building, equipment and inventory losses.

Interruption

Formulating business interruption models.

Itemization

Presenting and supporting an itemized claim package to your insurer.

Negotiation

Negotiating on your behalf with your insurance company.

Communication

Keeping you informed every step of the way.

Settlement

Ultimately settling the claim for the maximum amount and with less hassle for you.
Industries Our Public Adjusters Have Helped
Client References & Testimonials

Client References

Cambridge Manor - Clark Mills, NY

Clark Mills Redevelopment Company - Clark Mills, NY

Edwin Chester & Barbara Vestal - Portland, ME

Harding Nursing Home - Waterville, NY

Hillcrest Manor Apartments - Utica, NY

King Craft Company - Herkimer, NY

MCD Real Tech - Waterville, NY

Melissa Baker Richter - South Portland, ME

Warehouse of Utica, Inc. - Utica, NY

Waterville Hotel - Waterville, NY

Westgate Shopping Center - Albany, NY

Williams Furniture & Appliance - Herkimer, NY

Testimonials

Our Marina was devastated by a tornado that swept through the area...It was abundantly clear from the outset that we would require the services of a public adjuster given the slow initial reaction form our insurance company...and the inherent complexity of the claim…[Your firm] hit the ground running, assembled a team of experts to thoroughly assess and document the damage, reviewed our coverages and directly engage our insurance carrier...More importantly, we were able to devote our full time and attention to the difficult task of rebuilding the Marina in time for the opening [of our next] season.

Gary Titherington

Managing Partner - Treadwell Bay Marina & Resort, Plattsburgh, NY

Case Studies

In the spring of 2013, the Village of Watkins Glen and Schuyler County suffered a devastating fire to its new, 15,000-square-foot Shared Services Building. This services facility was the headquarters or central location of key departments for the county's and village's operations. The Adjusters International/Basloe, Levin & Cuccaro public adjusting team was chosen to manage the county's and village's property damage insurance claims while ensuring that public services continued unhindered. After initial offers from both insurance carriers at much lower levels, AI/BLC was able to negotiate and secure a total recovery amount of $3.2 million dollars.

Wilbert's, a prominent three-location automotive recycling operation across Western and Central New York, suffered a devastating fire to a new 10,000-square-foot building at its Williamson location. As this building was the center of business for that location, Adjusters International/Basloe, Levin & Cuccaro (AI/BLC) immediately established temporary solutions to mitigate the losses and also developed strategies and objectives to make sure Wilbert's received an optimal insurance settlement.

New Energy Works, a leading timber company in America, suffered winter-related roof collapse to one of its main 15,000-square-foot buildings. When operations could have been left in limbo, our public adjusters quickly took control of the insurance claim process to help make sure New Energy Works kept running and did not lose customers to competitors.
Understanding your insurance policy before a disaster strikes is essential to protecting your organization and ensuring a fast recovery. Having contingency plans established in advance will help you ...
Understanding Business Income Coverage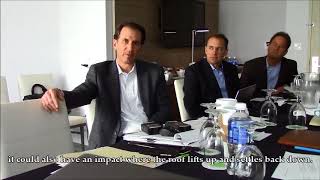 Carl Gross, VP and CAO of Globe Midwest/Adjusters International gives business owners some tips on how to handle tornado insurance claims
Contact Us
If you're suffering from a commercial property claim, we can help!
( * ) indicates required field
Meet Your Public Adjuster
Through his extensive knowledge of both the insurance industry and property insurance policies, Steve is able to empower our clients to achieve maximum results from their property insurance claims.
Contact him today!