Summertime in the Northeast is happily welcomed after the long, harsh winter. The summer months are filled with sunshine and warm weather but can also be accompanied by strong thunderstorms with high-speed winds and lightning. The severe weather from thunderstorms can produce power outages, downed trees, and other damage that can wreak havoc on businesses and commercial property.
While we are used to frequent thunderstorms here in New York and Pennsylvania, it's easy to forget that elements from the storms can produce serious property damage, leaving the policyholder to navigate the complicated process of filing a property damage insurance claim.
At Adjusters International/Basloe, Levin & Cuccaro (AI/BLC), we have helped countless business owners financially recover from property loss due to summer storm damage. In the past five years, we have seen an increasing number of extreme weather events, lightning-induced fires, and record-breaking wind speeds which have caused severe and hidden damages to businesses.
Commercial Building Storm Damage
Power outages and windblown debris are not uncommon during a thunderstorm. On the surface, this damage may seem insignificant, but often the damage can be hidden. If not properly inspected and addressed, the hidden damages can further harm the building and its operations.
For instance, wind and other elements entering the building through broken windows and damaged roofs can push the heating, ventilation, and air conditioning (HVAC) to its limits. A stressed HVAC system can overheat, leading to equipment failure or, sometimes, even fire.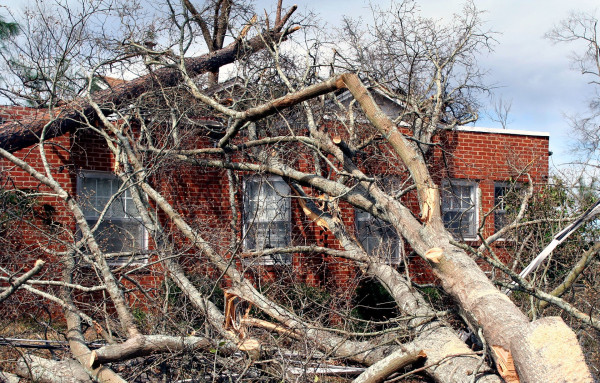 Extreme winds can also cause trees to fall onto the roof or into the sides of a building. Even what may seem to be superficial damage to the roof from a broken tree limb can compromise the structural integrity of the building triggering it to collapse. Falling trees and limbs during storms can also generate a fire if the tree gets tangled in electrical wires from the fall.
Lightning from a thunderstorm can spark flames and ignite a fire if it strikes a building, the electrical system, or a gas line. Lightning strikes do not have to be direct to instigate damage. The electrical charge from lightning can jeopardize the electrical system of a building – even if it's properly grounded – resulting in computer system failures, fried backup systems, compromised data, and more.
Benefits of Engaging a Public Adjuster for Storm Damage
As a business owner, engaging the help of a public adjuster can help you financially recover after a storm. Damages from thunderstorms can vary and range from roof damage to failed electrical systems to fire. It is important to understand the direct and indirect damage storms can cause and how working with a recovery team can identify the true extent of the damage to your business so you can fully recover.
When equipment begins to fail and the policyholder files a claim, the insurance carrier will send their representative to investigate the damage. The insurer may assume there is no damage if everything is operating as normal, and the building seems structurally sound. Without the opinion of trained professionals, such as an electrician who can conduct proper testing to discover unseen damage, the policyholder could be left with a denied claim.
How to Prepare for a Storm
In addition to assembling a recovery team, there are other ways to prepare your building physically and financially. Here are a couple of steps property owners should take ahead of the storm to protect their business:
Conduct proper maintenance on the building. This includes inspecting the roof, structure, and equipment regularly and repairing any areas of weakness that may put the building and property at risk for damage.
Check your commercial business insurance coverage. Review your policy at least twice a year to ensure your coverage is up to date.
After the Storm
After a storm, it's important to immediately and thoroughly inspect the building for storm-related damages. During the inspection document any damage or items that are not functioning properly. No matter how big or how small, picture and video evidence can make all the difference in settling a claim.
It's in the business owner's best interest to engage the help of a professional recovery team during the claims process. If your business or commercial building experienced summer storm damage and you need to file a property damage insurance claim, a public adjuster from Adjusters International/Basloe, Levin & Cuccaro can help you navigate this complicated process to receive an optimal settlement.
As public adjusters who have unmatched expertise and decades of experience measuring damage from thunderstorms, AI/BLC can help identify hidden damage and advocate on your behalf so you can recover more quickly and without the stress of having to navigate a claim settlement on your own.