Latest Adjusting Today Addresses Recent Revisions to ISO Commercial Property Coverage Forms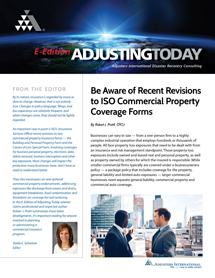 In this new E-Edition of Adjusting Today, veteran claims professional Robert J. Prahl, CPCU, gives insight into the recent changes made by the Insurance Services Office (ISO) to two commercial property insurance forms. These revisions were made to the Building and Personal Property Form, which is the standard contract for insuring building and personal property exposures of commercial insureds, and the Causes of Loss – Special Form, which identifies the perils that are covered by the policy. In order to help clarify the most important of these form changes, this article reviews the coverages, provisions and endorsements most impacted by these revisions. This edition is important reading for all of those involved in commercial insurance, as these changes will impact the protection many businesses have, don't have or need to understand better.
Your comments about this article, topic suggestions and continued feedback are always appreciated. Subscriptions to Adjusting Today are available in hardcopy format, electronic format, or both. Thank you for your readership.