There's no disputing that the warm weather and ample sunshine of summertime in the Northeast is one of the best times of the year. But it's also one of the most dangerous times for homes.
The summer months bring severe storms, dry conditions and a substantial increase in the use of air conditioning and fans – all of which have the potential to lead to an unexpected disaster at your home. Let's take a look at some of the most common causes for homeowners' insurance claims and the potential risks to your home this summer.
Wind & Hail Damage
Intense thunderstorms are a hallmark of summertime, as extreme heat clashes with cold air to cause high winds, torrential rains and furious lightning storms that can be a wonder to behold – but also a big threat to your property. Severe weather conditions can lead to the formation of tornadoes, derechos or microbursts. While uncommon in New York, Pennsylvania and Maine, these severe wind events knock over trees, tear off roofs and blow away unsecured items or smaller freestanding structures.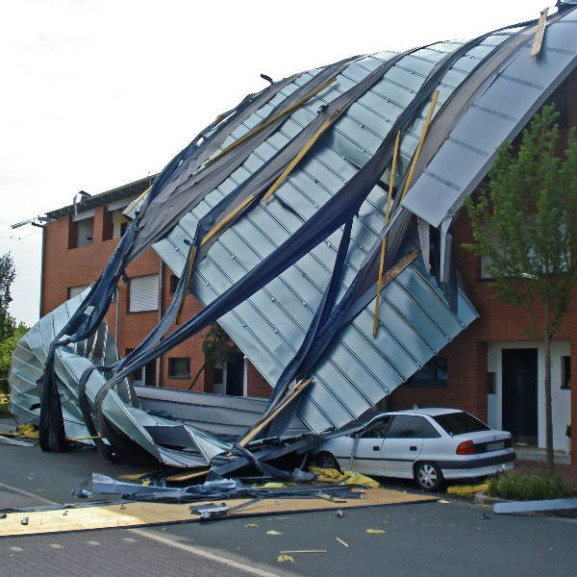 The collision of warm, moist air with starkly cold temperatures in the atmosphere may also cause hail to form. Hail can vary widely in size and shape, depending on the prevailing weather patterns, but these chunks of ice can grow quite large in some cases. The biggest hailstones can cause substantial hail damage, tearing vinyl siding, cracking roof shingles or breaking through glass windows or skylights.
Grilling
There's nothing as tasty as a well-grilled meal. Whether you prefer burgers or dogs, sausages or kebabs, meat or veggie options, it all tastes better cooked over a hot flame. But you don't want it to cook your home. Improper or unsafe grilling is one of the leading causes of home fires and serious fire damage to property, particularly in the summer months.
Grilling inside a garage, in a narrow carport or beneath a covered porch can seem like a good way to dodge the rain as you cook, but it can quickly become a serious catastrophe if errant flames catch your structure on fire or cause heat damage to home siding. Grill smartly, grill safely – outdoors, and away from your home, garage and other outbuildings.
Drought and Brush Fires
During the summer months, drought can also be a concern, with drier than normal conditions allowing fires to start and to spread more easily. In fact, right now much of the Northeast is experiencing some level of drought, according to the Northeast Regional Climate Center. This ranges from the abnormally dry conditions in Buffalo, Rochester and Syracuse across New York, as well as much of Pennsylvania, to the more serious moderate drought status in Albany, New York and most of Maine. Some areas of St. Lawrence County in New York and the northernmost tip of Maine are currently under severe drought conditions, with burn bans in effect to limit the potential for fires.
Just a small spark can lead to extensive wildfire damage in these conditions, so be mindful of your grilling, bonfires, use of fireworks and other fire-related activities to reduce the risk and protect your home.
Water Damage
At the opposite extreme, while summer can be dry, water damage is still a possibility. Old and damaged pipes can fail, heavy rainstorms can overwhelm natural drainage options, or pools can crack or collapse, leading to a sudden influx of water into your home.
Water damage can be especially problematic. Even if the immediate damage seems minor, the moisture can weaken structures, lead to the growth of mold and mildew or irreparably damage walls and flooring. Inspect your plumbing, drainage and pool fixtures at the start of summer and throughout the year to identify any signs of clogs or cracks that could lead to unexpected issues down the road.
HVAC Failures
Spending time inside to beat the heat in your air-conditioned space is a popular way to get through the hottest days of the summer. In fact, one contractor that Buffalo's WIVB-TV spoke to recently said that he's seen a surge in requests for air conditioning service and installation in the past few years, almost overtaking the winter furnace business. However, an improperly installed or poorly maintained AC unit can pose a hazard to your home. The unexpected buildup of gas pressure, a cracked heat exchanger or frayed electrical connections are just a few ways that fires can start, so be sure to keep up on your system maintenance and monitor it routinely to prevent major issues as you strive to stay cool.
Burglary
While burglary can happen to anyone at any time of year, the data shows that burglaries occur more frequently in the summer months. Statistically speaking, June is the month with the highest number of burglaries nationwide, with the summer months (June through August) seeing an average 10 percent increase in burglary over any other period of the year, says SafeWise.
With the unique situation posed by COVID-19, many people are spending more time at home, which may reduce this rate versus previous years. It's still important to remain vigilant to protect your home. Having an alarm system, security cameras or smart doorbell can all help monitor the situation at home, even when you're away at work or on a vacation. Simple steps like making sure you lock the door before going to bed or leaving home can help give you peace of mind and protection.
Vandalism
Finally, vandalism – like burglary – is a risk in every season, but the rate of vandalism reports has actually increased in some areas in 2020. The Portland Press Herald reported in April that Maine's Knox County Sheriff's Department was responding to an increased number of reports of property vandalism in Vinalhaven, noting that it was believed these incidents were targeting out-of-state visitors to the region.
As individual states issue quarantine requirements for those traveling from out of the area, and the threat of contagion continues to cause tensions to run high, it's broadly expected that vandalism issues will continue to occur at higher than normal rates this summer. As with preventing burglary, the use of surveillance equipment and being proactive about securing access to your property can help keep your home protected.
Let Us Help with Your Claim
No one wants to have a property damage insurance claim, but having the right help can mean the difference between settling for less than you deserve and receiving a fair value for your loss. As public adjusters, the team at Adjusters International/Basloe, Levin & Cuccaro works on your behalf, contesting discrepancies in claims with your insurance provider and working to get you a fair and just amount. The difference we can make for your insurance claim could be substantial, not only in the monetary value, but in the saved time, hassle and stress of dealing with your insurance provider.
Need help with your claim? Contact our team today and let's discuss your situation and how we can assist with your claim.