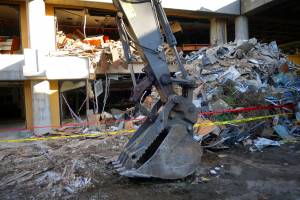 We spoke to our experts to find out what costs residential and commercial policyholders might be facing after a hurricane in terms of property damage insurance claims:
Percentage Deductible
Insurance deductibles for property damage claims can vary widely from a flat dollar amount to a percentage of the insurance value. How much that deductible will be depends on what caused the damage. In this case, the cause will likely either be a hurricane or flooding. Our expert notes that the deductible amount should be written into the policy and will likely be found on the declarations page.
Undiscovered Damages
As part of a claim, policyholders need to prove that damage has occurred. This means documenting all of the damage to demonstrate the scope and determine the best route for repair. This can be done through photos, engineering reports and written repair estimates. The insurance company's adjuster is supposed to help policyholders through this process but the policyholder is ultimately responsible for proving the claim themselves.
Unrepaired Pre-existing Damage
Many times after a natural disaster, insurance carriers will classify some of the major damage to a property as 'pre–existing' meaning that they believe that the damage was not caused by the storm but was there before the storm hit. In order to avoid this, the property owner must prove that any damages were not pre-existing but occurred at the time of weather event.
Code Upgrades
While standard policies will only pay to return a building to the state it was in before damage occurred, older structures may need to be updated according to new local building codes. These code upgrades will increase the cost of returning the property to normal, and that cost might not be covered meaning that many policyholders will have to absorb this extra cost. Our expert notes that after recent hurricanes in Florida, many policyholders who didn't previously have hurricane shutters were required to install them at their own expense. Law and ordinance can be purchased to cover this expense in the future.
Flood Damage
Most standard commercial and residential insurance policies exclude flood damage which is defined as overflowing bodies of water seeping into a building from the ground level outside. Separate policies from the National Flood Insurance Program (NFIP) must be purchased to cover those perils. However, if a hurricane lets rain enter the house by tearing off a roof or breaking a window or door, then some or all of this damage will likely be covered.
Increased Costs (as a result of the storm)
After a widespread natural disaster, repair costs and waiting times for restoration professionals to perform work will grow due to increased demand. These increased costs can sometimes cause policyholders to hit their coverage limit before all of the repairs have been completed. In those cases, the remaining costs will need to be covered by the home or business owner.
One of the best ways to avoid these costly mistakes is to hire a specialist to manage your claim.
"Policyholders need to know that they have a right to have an insurance expert by their side during the claims process. Licensed public adjusters know the ins and outs of commercial properties since they deal with them every day. They can handle all of the tedious details so that you can go back to helping your clients. Don't be afraid to ask for help."
For more information on how Adjusters International/Basloe, Levin & Cuccaro's public adjusters can help you recover from severe property damage, visit the contact us page here or call 877.482.1234.