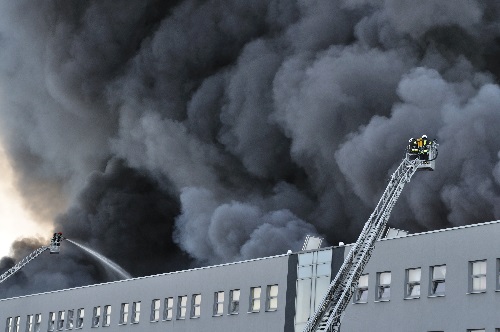 When a business experiences a fire, the owner can sustain damage not only to the structure but also to the business inventory, vital equipment, and other supplies that he or she needs to serve the valued customers they've worked so hard to earn. With business fires occurring frequently, during the five-year period of 2007-2011 the National Fire Protection Association (NFPA) estimates that U.S. fire departments responded to 3,340 fires in office properties each year, having a plan in place for dealing with a fire is a wise investment for any corporate leadership team.
While most business owners know that fires can cause visible damage such as incinerated furniture and broken windows, many aren't aware that fires can also cause harm behind walls, below floors and above ceilings. It is this hidden damage that can often be the most troublesome to find, document and fix.
"Business owners need to make sure that everything is inspected properly by professionals who are experts in assessing fire damage because some of the after-effects may not show up until weeks after the fire occurred. This is very important because the ancillary damage from a fire is sometimes much worse than it seems upon first inspection."
Ron Cuccaro
Executive Chairman, Adjusters International
We spoke to Cuccaro and Steve Vanuga, Regional Vice President at Adjusters International/Basloe, Levin & Cuccaro, who have both guided hundreds of policyholders through the fire insurance claims process, to find out what types of hidden fire damage business owners should be looking for:
1.) Water Damage
Just as water flows easily down crooked rivers and twisting streams, it can find its own path through the hidden spaces inside of a commercial building. Water can lie undetected below floor boards, above insulation, and buried between ceiling tiles. If it is not found, dried and/or removed, small amounts of concealed water can lead to big problems down the road such as toxic mold growth, weakened building joints, and loosened floor and ceiling tiles.
2.) Smoke Damage
Much like water, smoke fumes can bend and shrink to fit almost any path. Not only can gassy puffs of smoke make their way behind walls and other enclosed spaces but they can also work their way into the sensitive circuit boards of electronics, such as computer and other office equipment, and other essential machinery and motorized business equipment.
3.) Heat Damage
According to ready.gov, room temperatures in a fire can range anywhere from 100 to 600 degrees. These high heat levels can disintegrate fabrics and cause even the toughest metals and plastics to melt. For this reason, all covered wiring, pipes, and control systems should be inspected because it is very likely that at least some of their parts and components were melted or destroyed during the fire even if they were not directly exposed to the flames.
How can business owners be sure that they are properly compensated for repairing or replacing the hidden materials and equipment that were affected by water, smoke and heat damage? By hiring the right professionals to inspect, document and prove their claim.
"Commercial fire losses typically involve a myriad of new, unforeseen issues for a business in the days and weeks after they occur - including hidden damage. Wise businesses contact and consult with several important experts including their accountant, lawyer and public adjuster. The public adjusting firm will serve as the 'project manager' to guide the business through the complex claim process and ensure that all aspects of the claim are correctly addressed so that the business can stay in business."
Steve Vanuga
Regional Vice President, AI/BLC
Listen to Property Insurance Roundtable's podcast episode on "Business Income Insurance" to learn how to better protect your business in the event of a disaster:
For additional resources, visit:
---
Adjusters International/Basloe, Levin & Cuccaro's public adjusters can help you recover from severe property damage. Visit the contact us page here or call 877.482.1234.