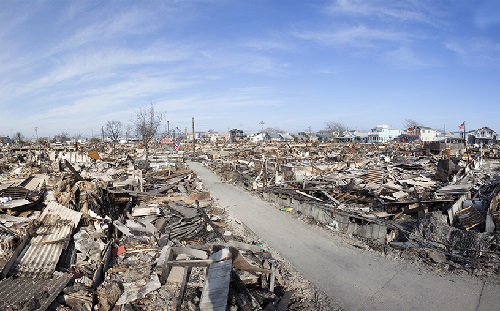 When Superstorm Sandy hit the coasts of New Jersey and New York on October 29, 2012, it left millions of dollars of damage behind. Superstorm Sandy first formed in the central Caribbean on October 22 and intensified for one week as it moved toward the mid-Atlantic coast where it landed on October 29, culminating in a high tide storm surge along the Atlantic Coast. According to the National Weather Service, this was a "worst-case scenario" for the coastal communities in New Jersey, New York City and Connecticut.
We spoke to several weather and financial experts to discuss the insurance lessons that they learned from one of the East Coast's worst weather disasters:
What's in a name? Naming the type of storm was one of the biggest challenges raised by Sandy. The labeling of a storm affects the evaluation of the claim but in Superstorm Sandy, the storm was not officially considered a hurricane when it made landfall. This lack of clarity on the storm's type caused confusion because homeowners insurance policies in coastal U.S. States have hurricane deductibles, which are higher than traditional deductibles for other covered events, such as fires.
"Property insurance policies insuring coastal properties frequently have Hurricane or Named Storm deductibles or sub-limits, primarily because of the risks posed by large tropical weather systems. Sandy was a bit of an anomaly because it was a post-tropical cyclone, a relatively new designation which does not always fall neatly within existing named storm definitions found in such policies."
Steven Vanuga, Regional Vice President
Adjusters International/Basloe, Levin & Cuccaro
Matt Gaffner, a Meteorologist and Project Manager at Weather Decision Technologies, explained that even for the weather experts, classifying this storm was tricky.
"Sandy was a hurricane at its peak with an intensity of Category 3 when it hit Cuba. However, by the time the storm made landfall in New Jersey, it was considered an 'extratropical storm' meaning that the warm weather processes that were driving Sandy had transitioned to cold weather processes that typically drive mid-latitude cyclones," said Gaffner. "In this case, Sandy was not a hurricane based on sustained wind speeds alone. Sandy also wasn't meteorologically a hurricane due to the fact that the physical forces driving Sandy were no longer tropical in nature despite the fact that Sandy did originate in the tropics. The wind gusts associated with Sandy were equal to or greater than 74 mph; however sustained winds were not that high on land. Technically, a Category 1 hurricane would require sustained winds equal to or greater than 74mph."
---
Lesson #2: Storms Are Expensive
Despite the fact that it wasn't labeled as a hurricane when it hit the Northeast, the storm caused unprecedented destruction of property there. According to the Insurance Information Institute , more than a dozen States were impacted by Hurricane Sandy resulting in $18.75 billion in insured property losses, excluding flood insurance claims which are covered by the Federal Emergency Management Agency's (FEMA) National Flood Insurance Program (NFIP).
"People tend to think of hurricanes as only being in Florida but that's not true. The entire East Coast is vulnerable. Sandy was an extremely catastrophic storm in terms of property damage but it could have been worse. This storm showed that the Northeast is at risk for extreme weather events much like other parts of the country."
Jeanne Salvatore, Senior Vice President and Consumer Spokesperson
Insurance Information Institute
About 90 percent of the auto, business, and home insurance claims filed after Sandy were settled within six months of being filed, and the traditional deductibles were applied as opposed to hurricane deductibles.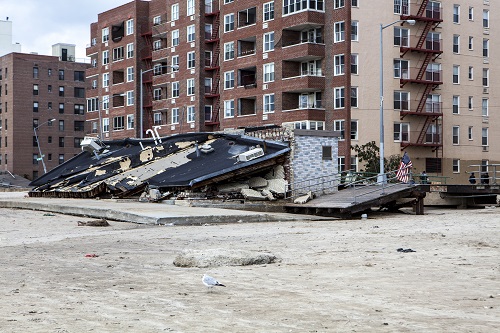 The National Flood Insurance Program also helped consumers by extending some deadlines for flood claims resulting from the storm.
"There were so many properties damaged that the time to make repairs or to obtain documentation for repairs was taking a long time, the NFIP was able to take a stepped approach to the adjustment process and leave items as open or unresolved, within normal NFIP deadlines, that could not have occurred," said Vanuga. "I'm sure that this really helped many homeowners who may not have been able to meet the deadlines otherwise."
"The NFIP extended deadlines for Sandy and 2016 Baton Rouge Great Flood victims, and issued an unprecedented waiver of the proof of loss rules after Hurricane Harvey. But even with these extensions, many households still won't receive the full amounts they're entitled to under their home and flood policies. What was damaged, how badly and what will it cost to fix it? Was the cause wind or water? Was there pre-existing damage? How much damage did Harvey actually cause that was covered, not excluded? Answering these questions is always a huge challenge for disaster survivors, regardless of deadline extensions."
Amy Bach, Executive Director
United Policyholders
Bach's organization found that the average Sandy homeowner's claim that went to mediation in New York was $100,000 but the average payout was only $56,000 while in New Jersey, the average was $103,000 but payouts in mediations were only $16,000.
"Our main concerns with the mediations in New York and New Jersey were the low settlement amounts relative to claim amounts and total payouts. These figures were staggeringly low compared with Louisiana's program after Katrina," said Bach whose organization advocates for fair insurance laws on behalf of consumers. She suggests that insureds who are not happy with their insurance payouts should always register a complaint with their State's Department of Insurance, make use of United Policyholders' Roadmap to Recovery™ program and extensive online help library, and get qualified professional help getting their flood and home claims paid in full.
---
What can homeowners do to prepare for the upcoming hurricane season before disaster strikes? Jeanne Salvatore advises consumers to make sure that they are properly insured in case another Sandy-like event makes its way to their town or city.
"One of the primary lessons from Sandy is that the Northeast, Mid-Atlantic and New England are all at risk for severe storms. People need to know how to protect their property against wind and flood. They have to have the right type of insurance and they need a backup plan. Make sure that your insurance is up to date. Also, consider getting flood insurance or at least looking into it at floodsmart.gov. We've seen time and time again that places that have not flooded before are flooded now. You may be in a low risk area but that doesn't mean it's a no-risk area. Homeowners should take every measure to be prepared in case another storm like Sandy strikes because, unfortunately, that is always a possibility."
---
Listen to our podcast on "Hurricanes and Windstorm Coverage" for tips from our experts:
For additional information, visit:
---
AI/BLC is a public adjusting organization that works exclusively for the property owner to ensure maximum results from first-party property insurance claims. The firm has helped thousands of policyholders and government entities in the aftermath of many of the nation's worst disasters. AI/BLC's public adjusters can help you recover from severe property damage. Visit the contact usage here or call 877.482.1234.